DREMEL 3D printer (MODEL 3D20-01)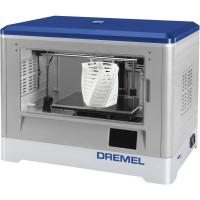 The Dremel 3D printer utilizes a specific technology called Fused Filament Fabrication. In this process, the printhead or "extruder" heats or "melts" a spool-fed filament so that it can be easily laid down. This heated filament then quickly cools and hardens so that the next layer can be applied.
General information:
Extruder: Single extrusion
Extruder temperature: Up to 230°C /397°F
Operating Interface: 3.5" full color IPS touch screen
Maximum Build Volume: 9" x 5.9" x 5.5" / 230 mm x 150 mm x 140 mm
Layer Thickness: 4 mil | 0.004 inches 100 microns | 0.10 mm
SD Card: Up to 32GB in size /3D20 will not work with SD cards larger than 32GB
Internal Storage: 4GB
Filament info:
ONLY builds Dremel PLA filaments
Filament: 1.75mm PLA (Blodegradable/Renewable)
Filament Storage
All polymers degrade with time. The following conditions ensure the material remains high quality:

Do not unpack until filament is needed
Store at room temperature: 16-29° C / 60 - 85° F
Store in a dry environment
The printer is connected to the workstation. The Core will not provide the printing filaments. Users please bring your own Dremel 1.75mm PLA filament spools to use the printer.
Printing instruction:
Save your model file in SolidWorks, AutoCAD… in .STL format
Login to the workstation using "ywcmc"
Open Print Studio software on the desktop and then Turn on Dremel 3D printer. This sequence is very important, otherwise the Print Studio will not recognize the printer.
On the printer LCD panel, select Tools –>Preheat –> Start and wait the filament reaches 220 C
In Print Studio, click Import on the top menu to load the file
Specify Model Size, choose Move, Lay Flat, Rescale the model from left menu, Measure and confirm final model size
Click Layout on the top menu to load the file
Click Repair on the top menu to load the file
Follow top menu from Supports, Preview and hit Print
The printing time can take from several minutes to hours depending on model sizes
Turn off Dremel 3D printer after use and quit Print Studio