Wire Bonder
West Bond Manual 
Wedge Wire 

Bonder

 (Model: 

747630E) 

Features:
UNLIMITED DEEP REACH access to remote bond targets on large packages
CONVERTIBILITY for a variety of bonding methods among conventional 45º wire feed, deep access 90º wire or ribbon feed, and single point tab/lead bonding
PROGRAMMING for thirty different device types may be entered into separate buffers
Press
Spex 3636 X-Press®
35-ton (31.8 metric ton) hydraulic laboratory pellet press that accepts 13 mm, 31 mm, 35 mm, and 40 mm pellet die sets. Automatic and fully programmable. Ideal for repetitive pressing of sample pellets for XRF, IR, and other analytical techniques.
Features:
Automated, programmable laboratory press.
Presses samples in minutes and accepts all standard die sets.
Safety interlock and automatic pump shut-off safety valve ensure safe operation.
Compact Bench Top System.
Can be operated manually as a simple motorized press whose functions are under direct user control.
Programmable LCD touch screen interface. Allows the user to enter final pressure desired, time to hold at the final pressure, and interval to return back to zero pressure.
Ball Mill (This tool is broken and a new model is in purchase.)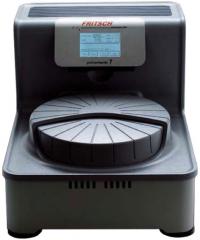 Lab Synergy Planetary Micro Mill Pulverisette 7 premium line
Features:
As extension of the existing classic line Planetary Mills, FRITSCH offers now a new premium line generation. For the first time ever, it is possible to reach rotational speeds never known before, which achieves ultrafine grinding results down into the nano range. FASTER, SIMPLER AND SAFER THAN EVER. Discover a completely new dimension in high-tech milling with the new FRITSCH premium line.
Technical Info:
Grinding bowl sizes

20, 45, 80 ml
Grinding ball diameter

0.1-20 mm
Max feed size

5 mm (material dependent)
Min sample qty

0.5 ml
Max sample qty

70 ml
Final fineness

<0.1 µm
Typical time to analytical fineness

3 min
Grinding process

dry/wet
Grinding with inert gas

yes
Gas pressure/temp management

yes
Transmission ratio

i (relative)=1:2
Centrifugal acceleration

95 g