ThermoFisher Helios G4 UX DualBeam for Materials Science
Fastest and easiest preparation of the highest quality samples for HR S/TEM and APT
Features:
High quality ultra-thin TEM sample preparation: automated sample preparation using AutoTEM allows multiple lamella preparation for final polishing.
Low-energy (>500 eV) final polishing: minimizes sample damage for high quality TEM lamellas.
Slice and view: automated sequential mill and view to collect series of slices images. Allow sample 3D reconstruction for further analysis such as 3D segmentation.
EDS: allows simultaneous EDS mapping for 3D reconstruction
EBSD: provides grain orientation maps, grain boundary maps, phase maps and pole figures.
FIB patterning: creates small structures with feature size down to tens of nanometers via 3D ion milling and deposition.
E-beam lithography: e-beam writing on resist coated surface for device fabrication with feature size smaller than 10 nm.

PHI 

VersaProbe 

II Scanning 

XPS

 Microprobe

The core technology of the VersaProbe II is PHI's patented, monochromatic, micro-focused, scanning x-ray source which provides excellent large area and superior micro-area spectroscopy performance.

Features:
Multi-point mode large area analysis: Multiple spots can be chosen on the sample holder photograph for spectrum being collected at any interested points on a large sample or on multiple samples positioned on the 60 mm diameter sample platen. 

Single-point mode micro area analysis: spectrum can be collected at any specified single point on x-ray induced secondary electron image  (SXI) at a high resolution (<10 µm).
Elemental and chemical state imaging: Elemental and chemical state spectra are extracted at each pixel of SXI image and processed using PHI MultiPak software
Thin film profile analysis: the depth profile can be measured using Ar+ for inorganic films or C60 cluster gun for organic films with minimized chemical state damage.
UPS analysis: the valence band structure, molecular adsorption and work function measurement can be performed using equipped UV light source.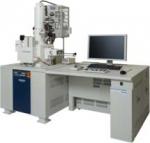 Hitachi SU8230 UHR Cold Field Emission (CFE) SEM
Hitachi's next generation Cold Field Emission SEM offers unmatched low‑voltage imaging and comprehensive analytical microanalysis with the uncompromised performance of CFE.
Features:
High signal to noise (S/N) and uncompromising resolution with high beam current and stability
Lower, upper and top detectors for SE/BSE signals
Enhanced deceleration and selective energy filter providing fine contrast differentiation at low accelerating voltages
Photodiode backscattered electron (PD-BSE) detector
Scanning Transmission Electron Microscopy (STEM) imaging
High Spatial Resolution X-ray Energy Dispersive Spectroscopy (EDS) analysis with BRUKER XFlash 5060FQ Annular EDS detector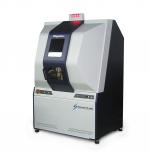 Rigaku SmartLab X-ray Diffractometer
The SmartLab X-ray Diffraction System includes a highly stable and reliable sealed tube x-ray generator that is fully integrated within the automated diffraction system and is compatible with the full range of SmartLab goniometer configurations.
Features:
Full automated alignment under computer control
A high-efficiency scintillation detector with high-count rate
Cross Beam Optics (CBO) permits easy switching between focusing (BB) and parallel beam (PB) geometries without reconfiguration
In-plane diffraction arm for in-plane measurements without reconfiguration
High temperature (~1500 C) measurements in air, vacuum and Helium
Air-Tight Sample Container for contamination free measurement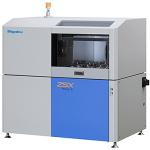 Rigaku ZSX Primus II XRF Spectrometer
The ZSX Primus II with its tube-above optics is a fully automated, sequential WDXRF spectrometer incorporating a smaller footprint and the most advanced design in the WDXRF industry. The tube-above optics of the ZSX Primus II, coupled with the ultra-thin end-window Rh target X-ray tube, guarantees reliability, flexibility and ease of use. Micro Analysis, down to 500 microns, and Mapping is now a field upgradeable option.
Features:
Wavelength Dispersive X-ray Fluorescence (WDXRF) systems with high resolution (typically 5 – 20 eV) and minimal spectral overlaps
Analysis of elements from Be to U
Tube above optics minimizes contamination issues
Micro analysis to analyze samples as small as 500 µm
Mapping feature for elemental topography/distribution
Helium seal means the optics are always under vacuum
Physical Property Measurement System (PPMS)
Quantum Design PPMS® DynaCool™
The instrument uses a single two-stage Pulse Tube cooler to cool  the superconducting magnet and the samples under study, providing a low vibration environment for electronic measurements. It employs a unique He-4 -based gas flow control system providing rapid temperature cycling and accurate temperature control. It also comes standard with an integrated Cryopump used to pump out the sample space to a vacuum of < 10-4 Torr. 
Features:
No need for liquid cryogens
Temperature range of 0.3 K – 400 K
14 Tesla magnetic field
The Electrical Transport Option (ETO), which performs measurements of AC Resistance (frequency range 0.1 to 200 Hz), Hall Effect, I-V sweeps, critical currents. Measurement sensitivity is a few nV and resistance from a few μΩ to GΩ can be measured.
The Horizontal Sample Rotator enables to rotate the sample 0-180 degrees with respect to the direction of the field with an angular step size of 0.053 degrees.
The Multi-function Probe simplifies custom experiments the involve optics, microwaves or extra electrical leads. The eight-faceted probe head provides ample room for electrical or coaxial lead feedthroughs.
Raman Spectroscopy (affiliated with Energy Sciences Institute)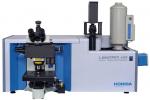 Horiba LabRAM HR Evolution 
The LabRAM HR Evolution systems are ideally suited to both micro and macro measurements, and offer advanced confocal imaging capabilities in 2D and 3D. The true confocal microscope enables the most detailed images and analysis to be obtained with speed and confidence.
Features:
High spatial and spectral resolutions
UV to NIR, 532 nm and 633 nm laser sources
Ease of use and ergonomy
Ultra-Fast confocal imaging
Raman-AFM and TERS compatible
Ultra-Low Frequency
Automated particle location and chemical ID
Finding the best conditions for sample analysis
CaptuR laser trapping
BET Surface Area and Porosity Analysis (affiliated with Energy Sciences Institute)
Micromeritics ASAP 2460 Surface Area and Porosity Analyzer
The instrument incorporates a unique expandable system designed for high-performance and high sample throughput. It also includes intuitive MicroActive software that combines user-defined reports with the ability to interactively evaluate isotherm
Features:
Fully automated modular system optimized 

for walk-up sample screening

High throughput with two, four, or six 

independent analysis stations

BET surface area measurements in as little as 30 minutes

Dosing options of maximum volume increment or dosing over specified pressure ranges

Analysis temperature can be entered, calculated, or measured

Equilibration option allows user to specify equilibration times for different parts of the isotherm

Low surface area and micropore options

Innovative MicroActive software with advanced NLDFT modeling

State-of-the-art engineering ensures excellent accuracy, repeatability, and reproducibility from all ports, from the master control unit through one or two auxiliary analysis units.
Microsensor Multimeter (affiliated with Energy Sciences Institute)

Unisense Microsensor Multimeter
This unit is a four-channel laboratory amplifier that enables you to measure multiple parameters at once. Two channels for amperometric sensors (O2, NO, H2, H2S, N2O, NOx-), one for potentiometric sensors (pH and Redox) and one channel for a temperature sensor give you complete flexibility for your experiments. It is easy to operate with automatic sensor recognition for most Unisense microsensors, OLED display, and direct communication to PC via USB connection.
Features:
Ease of use and simple data acquisition
Automatic sensor detection
Operated via OLED display and keypad
USB connectivity to Windows PC
Battery, external voltage, or mains power operation
Free SensorTrace Logger software included
Thin Film Deposition Systems (affiliated with Energy Sciences Institute)

FijiTM 200 Gen 2
Plasma Atomic Layer Deposition System
Features:
Continuous Mode™ (Traditional Thermal ALD)
Exposure Mode™ (High Aspect Ratio ALD)
Plasma Mode™ (Plasma-Enhanced ALD)
Substrate Size: up to 200 mm
Substrate Temperature: 500°C 200 mm substrate heater standard; 800°C 100 mm substrate heater optional
Deposition Uniformity: 1σ Uniformities; Thermal Al2O3 – 1.5% Plasma Al2O3 – 1.5%
Precursors: 4 precursor lines standard; 6 precursor lines optional; Accommodates gas, liquid, or solid precursors; Individually heatable to 200°C
Gases: 100 sccm Ar precursor carrier gas MFC; 200 sccm Ar plasma gas MFC; 100sccm N2 plasma gas MFC; 100 sccm O2 plasma gas MFC; 100 sccm H2 plasma gas MFC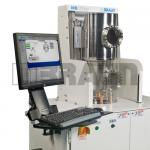 MB-EcoVap Thin Film Coater (MBRAUN)
Features:
For substrates up to 70 x 70 mm or 100 mm wafers
Automatic chamber lifting mechanism
Shielded view port for visual process monitoring
Recipe programmable PLC control
Removable protective shielding
Compatible with most standard deposition sources
Ergonomic to operate, easy to clean
UL listed and CE compliant